SPRING EXHIBITION
About the Show
The Spring Exhibition at the gallery sees still life, landscapes and figurative work all combine in an inspiring show. On display are artwork by Cathy Campbell, Claudia Massie, Rosemary Bassett, Sam MacDonald and Albie Sinclair.
Preview a selection of the work on display at the exhibition or read more about the artists below.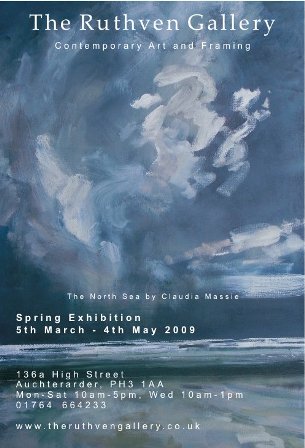 Cathy Campbell
The process always begins with a window or natural light. Then there are objects kicking about near the window. This stuff gathers and accumulates by osmosis, rarely engineered at this early stage, although I do cart stuff I like out to the studio if the shape or colour or whatever appeals to me, until the day I catch sight of an angle and begin this canvas or what might end up as a series of canvases. I try not to think anything. There's no planning at the beginning. There's no historical or symbolic relevance to the objects. No personal attachment or anything like that. Just a surge of willingness and excitement to commit to the start of something. After a day or two of moving paint around I may have begun to shift the objects around a bit. Or replace them with something else.
It's not really a question of making a portrait of the objects or of telling any kind of story or anything like that. It's about shapes, colour, darkness and light. Sometimes a bit of blue paint or something will go on and will give me the idea to dig around for something blue. I might put in something transparent and spend a few days trying to work with that and find out it doesn't work or the composition's wrong or it needs to be opaque, red, not there, on the other side of the composition, nearer or further away. All these things get tried out and scraped off. There's big piles of scraped off paint (which sometimes gets used in the painting or as a good neutral ground for another painting but sometimes doesn't).
I don't know when it's finished until it is. Sometimes a painting will take me a few hours but another might take me a couple of weeks. A lot get abandoned and I'll work over the top once it's dry.
If I start to think about what I'm doing in terms of setting up a group of objects like a photographer getting all the folk lined up nicely for a group portrait for example, things go wrong fast. I'm better just thrashing around in paint and finding my way into it that way - making decisions in a response to what's going on with the work. Preview Cathy's work
Claudia Massie
Claudia has been working recently with the contrasting landscapes of forests and coastlines. The rich woodlands of Perthshire offer a great opportunity to consider the fall of light through trees, the darkness of the shaded depths and the way the vertical lines of trunks can break up and define a painting. The coastal paintings offer a total contrast in that the axis is horizontal and defined by a relative lack of drawn detail, reliant instead predominantly on tone. Preview Claudia's work
Rosemary Bassett
Rosemary enjoys work with personal expression which constantly struggles to find something new through experimentation. Over the years Rosemary's work has developed, in particular, through a strong understanding of encaustic painting. This provides her with an interesting and tactile surface which can be used in a variety of ways. Preview Rosemary's work
Sam MacDonald
Sam's work expresses an emotional response to a moment shared between human and nature, suggesting a balance and a suspension, the brooding colours of the background saturating the work with a contemplative stillness. His aim is to observe and capture fleeting moments of nature, from the calm and tension before a trout's rise to the pure excitement of the strike on the insect. Traditional repousee, piercing and chasing are combined with patination techniques to produce unique pieces of art. Preview Sam's work
Albie Sinclair
Albie enjoys painting the Scottish landscape in winter; the muted colours, the low sunlight, and pale fields and hills with dark skies. He often paints the less obvious parts of the landscape; a clump of trees, an anonymous hill, hedges and fields. Layers are built up over weeks, wiping and rubbing off, scratching and glazing to create the effect of light, weather and atmosphere. Preview Albie's work