THE FORCES OF NATURE
Arie Vardi
Arie captures the mood, emotion and essence of a place. He paints landscapes and seascapes that are inspired by the elemental form of the land and connective points between the sea, sky, shore and hills. Colour and vibrancy, which are influenced by his Mediterranean roots and childhood in Chile, are essential to his work.
Arie was born in Chile and graduated in graphic design in Jerusalem. He started designing jewellery that was inspired by his travels across the Americas and the Mediterranean.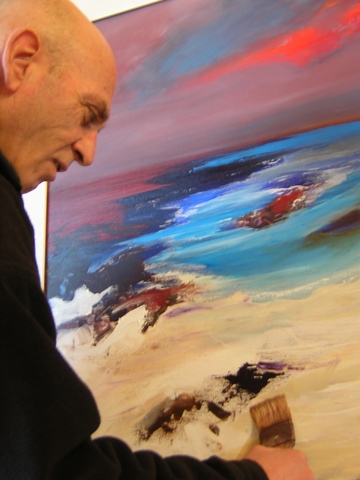 His unique jewellery designs incorporate original paintings set into silver and combined with gold beads, black pearls, lapis lazuli, red agate, lava and turquoise. In 1994, he was commissioned to make a gold brooch with a tay pearl for Princess Margaret.
Arie is based in Perthshire and works in acrylics, oil and mixed media. He paints landscapes, figurative work and still life. His sensitive use of colour is keynote, coupled with a wealth of visual landscape experience, both in Scotland and abroad.
© The Ruthven Gallery 2008.