GALLERY GUIDE SCOTLAND 2010
An Interview with Claudia Massie
By Leah Parker, Editor, Home Plus Scotland
How did you get where you are?
I studied drawing and painting at Edinburgh College of Art and spent six months of my studies at the Facultad de Bellas Artes at the University of Salamanca in Spain. After graduating in 2000, I worked as a gardener, dog walker, DJ, shop assistant...
When I started earning a little through my art, I became able to concentrate solely on painting and as such began to really develop as an artist.
How would you describe your artistic style?
I would say my style is still developing. It is underpinned by an appreciation and understanding of my surroundings which I hope to convey through strong drawing and a naturalistic palette. Mostly, my paintings are quite gloomy and dark; I don't like green colours much, which can be a drawback for a landscape painter. Autumn and winter are my favourite seasons for painting.
What goes into producing your paintings?
I work outdoors and in the studio. In the studio, I use a combination of sketches and photographs as my source material, along with my memory of being in a particular place and its light and atmosphere. I try not to be too constrained by any photos I use, I certainly have no interest in doing a painting of a photograph, but photos taken with a good camera can be a crucial aid.
What inspires you?
Probably a combination of loving the nature of paint itself and the act of painting. Of loving the landscape and having a desire to record certain elements of it. I really love paint, whether it's a big tub of gloss, a spray can or a row of oil tubes, it's an exciting material.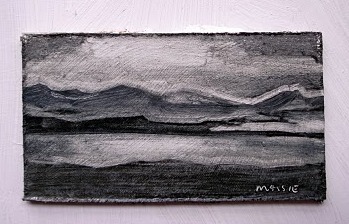 What do you love most about your job?
It's fun! I love painting; I can't wait to get to work. It still drives me crazy half the time, but when a painting works out it's a real high - at least for a while until I decide it's rubbish! The downside is that I barely make minimum wage but luckily I am totally resigned to penury.
What was your career highlight?
I did a show with Nicola Moir and Camilla Watson last year at the Dundas Street Gallery and it got a great response. I feel that was real turning point as it generated quite a bit of interest in our work, led to some good offers and gave me a lot of confidence in what I was doing. Being shortlisted for the Jolomo Award this year was encouraging too.
Are there any artists who have particularly influenced you?
El Greco, Giotto, Rothko, Hockney, Muirhead Bone, Tom Scott, Paul Nash, Joan Eardley. This year I've been introduced to the Californian Tonalists and Richard Diebenkorn, US painters who'd inexplicably slipped through my paint net before.
What does the future hold?
2010 is looking busy, I have exhibitions lined up with the Ruthven Gallery; two Jolomo finalists shows - one at the Strathearn Gallery in Crieff; a solo show with Di Rollo in Edinburgh in June, and a short group exhibition with Art Amatoria at Duns Castle in the Borders. I'm also hoping to finally get around to doing some printmaking.
The Spring Exhibition with Claudia Massie opens on the 5th March and runs until the 1st May.
© Capital Group UK.