A NORTHERN LANDSCAPE
Exhibition Preview
Preview a selection of the exhibition here or read more about the artists below.
Louise Balaam
My work is inspired by an emotional response to the natural world, in particular to the quality of light. I am fascinated by the relationships between light and dark, and how the pattern of light creates an emotional impact. I love the sensuality and depth of colour of oil paint, used in direct and gestural brushstrokes.
I collect information about the landscape by drawing on the spot in pencil, watercolour or oilstick. These Scottish paintings have been based on trips to the Cairngorms and to Arran, and I have tried to capture a sense of the particular feelings of being in the mountains, or of being on an island, particularly on the coast. I'm fascinated by the relationship between different elements, between the sea and the land, or the mountains and the sky.
The work is informed as much by the experience of being in those places, by weather, sounds, smells nd the process of walking through the landscape, as by what I can see. Back in my studio, I use the drawings to help focus my memory, but don't work directly from them - I find it works better to put the source material aside and to paint intuitively, so that the painting becomes an entity in its own right. I want to the work to have a sense of place, yet also be able to evoke memories and personal interpretations in the viewer.
Robert Newton
My work has become a direct response to an evolving, living landscape. Often changing with the seasons, the work is attached to the slow progression of time. Changing my palette with nature, from grey and brown hues of winter to the reds, yellows and cohre of the autumn the work is a diary of my surroundings. More so the bright and fresh greens, yellows and clear blue slies of springtime hold a special in my heart, heralding the beginnings of a new year in the natural world and a new chapter in my visual diary.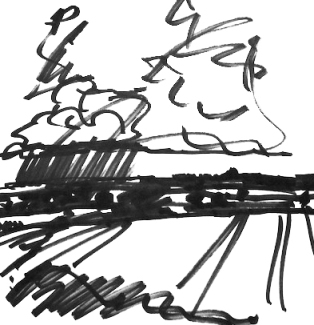 The beginning of any one of my works is tenuous and fragile, like a whisper of wind, that perhaps suggests the beginning of a great storm. A few suggestive marks can bring to life the experience of being at a place in time. Further development of simple marker pen sketches become charcoal drawings and eventually fully resolved paintings. I often revisit places, they change subtly or more noticeably, the landscape is alive with destruction and reconstruction. Trees fall down in the storms of winter, different crops are growing where cattle once grazed. There is always something to paint, there is always inspiration.